Traditionally, men express their love for women by buying engagement rings. This symbol of love and devotion is given when a man proposes marriage. However, the tradition now includes both men and women. Couples now purchase engagement rings for each other.
A simple engagement ring is an ideal option for couples seeking an affordable men's ring. When selecting a basic engagement ring, the material of the jewellery should be the primary focus. Some couples choose a sleek silver or gold band, or select a more contemporary ring made of brushed titanium or black-plated titanium. A bevelled edge gives the ring more depth.
Types of Bands
If you like the looks of a modern engagement ring, then a sleek black tungsten band might be a great alternative. You might also consider purchasing a black titanium-plated ring that features a carbon fibre inlay. A carbon fibre inlay is made to stand out, especially when it features such colours as blue, green, and red. These hues create a woven look that is quite impressive.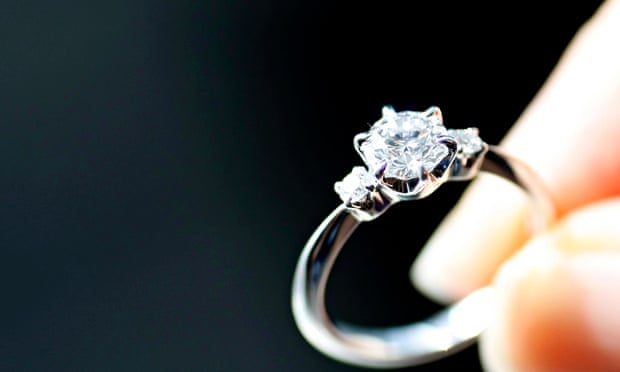 For men who favour a classic style, expert platforms such as the Your Diamond Guru site recommend buying bands that are lined with gems on either side of the band, a feature that a true romantic appreciates. Whilst you can buy an engagement ring lined with diamond gems, you should consider other kinds of stones too. Some of the more popular gemstones include sapphires, emeralds, rubies, and cubic zirconia. You might also consider buying a basic band with a few small gems in the centre at the top.
Fashion-Styled Engagement Rings
Besides bands, you might also consider fashion rings. For example, the Irish Claddagh ring is often chosen instead of the traditionally-styled wedding band set. Claddagh rings showcase two hands that are holding a heart on which a crown is placed. This representation is a symbol of friendship, love, and fidelity. When the ring is worn on the left-hand, with the heart facing away from your body, it shows you are engaged. Once you are married, you are supposed to turn the heart toward the body.
Alternatively, you may also consider the purchase of a ring with a large gem. For example, black agate that is set in black-finished stainless steel is a good choice for anyone who likes a contemporary look. If you want a traditionally-styled ring, then a stainless steel ring with an oval or round black onyx stone is a choice that may meet with your preferences.
Two-Toned Styled Rings
Engagement rings for men that feature a silver-tone or gold-tone finish create a timeless look that is not designed to go out of style very quickly. Some men like a titanium ring that exhibits a black and white finish or a black titanium-plated and rose-gold ring for an added sense of sleekness and style. Other men purchase a two-tone titanium spinner ring with bespoke wording on the inside of the ring.
Nature-Inspired Engagement Rings
Rings that feature designs inspired by the great outdoors are popular picks among men as well. Some rings feature wood inlays in both dark and light hues and shades. A ceramic ring coloured in black with a camo-themed inlay is a popular option for men who enjoy fishing and/or hunting.